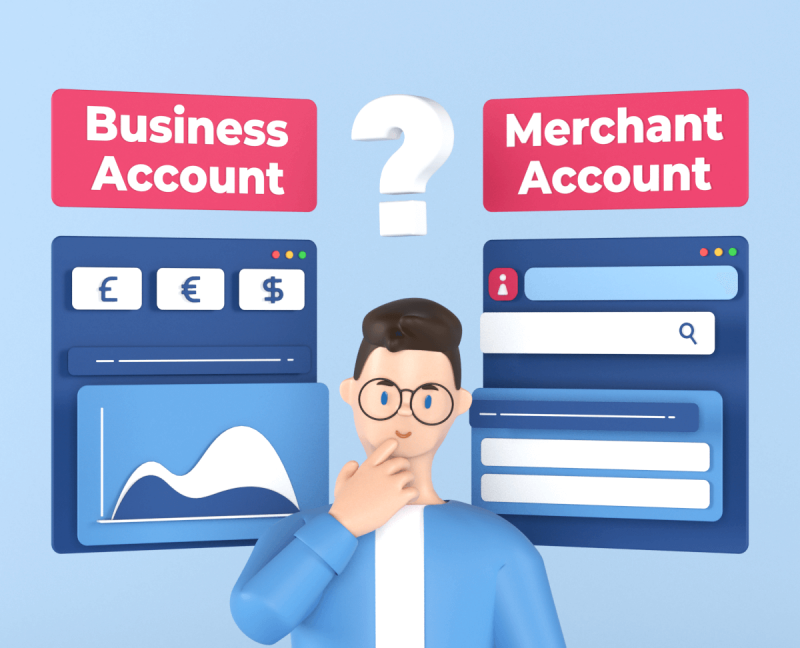 According to recent statistics from GOV.UK, small and medium-sized enterprises represent 99.9% of the business community in the UK. It's a similar picture for businesses across Europe, and a large percentage of SMEs will be sole traders, as opposed to limited companies or partnerships.
Technology has created new markets and opportunities for small businesses, and sole traders have been moving online in growing numbers to take advantage of the digital economy and the potential for global sales.
If you're a start-up sole trader, perhaps selling consumer goods, you can boost your business both domestically and internationally if you have a digital store and an online payment system. But before you can start trading, you must open a sole trader merchant account and a business account. Let's see what these accounts offer and why you need them.
What is a merchant account and how does it work?
If you run an online business, you won't be handling cash when you take orders through your website. You'll need to accept credit and debit card payments, and for that you must have a merchant account. And even if you have a physical store, people will still want to pay by cards as well as cash – so this type of account is a basic requirement in all retail environments.
A merchant account is not the same as a traditional account where money flows in and out and you have direct access and control. It acts as an intermediary between your customer's bank account and your business bank account, temporarily holding payments pending settlement, and it's a vital part of the payment infrastructure that supports e-commerce.
The account is a link in the processing chain between card networks such as Visa, card issuers (ie, your customer's bank) and acquiring banks (ie, your bank). Think of a merchant account as a secure staging post for electronic payments, a place where card transactions are stored while a payment is processed and approved. Once approved, the funds can be transferred to your bank account and the transaction will be complete.
Merchant account fees and contract conditions vary according to the provider and the type of service required. For example, you may need to cater for both online and point of sale transactions. You should be wary of contracts that tie you in for long periods or offer paid services that you don't need. Therefore, if you're looking for a sole trader merchant account, you should explore the marketplace and find a payment partner who best serves your business model and processing requirements.
What's a business account?
While a personal bank account needs little introduction, a business bank account may be less familiar. As the name suggests, it's an account dedicated to business transactions when running your company. So, the first question to ask is: do I need a business account if I'm a sole trader rather than a limited company?
The answer is no. Unlike a limited company, you're not legally obliged to have a business account as a sole trader, and you might prefer to use your current account for day-to-day business as well personal finances; however, having a separate business account is good practice.
Like a current account, a business account enables you to make and accept payments, and to store funds. And because business accounts are exclusively for work, you keep business and personal transactions separate, which makes it easier to manage your finances and complete tax returns.
As a sole trader, you may not have employees; but if you do, it would be natural to run the payroll from your business account. A business account can be domestic or international, and if you are trading overseas, both buying and selling, you'll welcome an account that can handle multiple currencies. One other thing: having a business account will make you look more professional as a sole trader.
Do you need both types of account?
You will certainly need a bank account to accept and make payments. But as already mentioned, if you're a sole trader, it's up to you whether you open a business bank account or simply use your current account. If you are taking card payments, you must have a merchant account.
Finding the right payment solution
Today's payment service providers can take the hard work out of making and accepting payments as a sole trader. If you're just starting your business, or perhaps looking for a better payments solution, talk to the experts.
At Safenetpay, we can help you with both business accounts and merchant accounts. You'll be able to accept credit and debit card payments internationally, in multiple currencies, and handle alternative payment methods. And we'll make it quick and easy for you to open accounts and get up and running.
For more information on business accounts, see our guide for sole traders. And if you're new to online payments, see our guide to online payment systems.