Money management, anytime, anywhere, at your fingertips.
We're excited to introduce you to our brand new mobile app. 
Developed for SMEs, small businesses, entrepreneurs and self-employed professionals, the Moneff business app is the next step in financial management made flexible. While our website app is perfect for laptop or tablet use at home, the mobile app has been designed specifically to provide you with a new, convenient and efficient way to conduct all your business finances. No matter what time zone or city your next big meeting is in.


So here's everything you need to know to get started.
9 Core Features
A look at the features and benefits you can unlock with the app…
Mobile Onboarding
Ever feel like you're tied to your laptop or PC? Let us help you with that.


You can register for your Moneff account directly through your phone anywhere, anytime. Simply keep your info to hand, and we can do the rest.

Plus, if your company is registered in the UK, our team will be able to source some of the details we need through Companies House. Meaning less admin for you.
Multi-Currency Account


Global trade requires global access – and that includes from your payment service provider. With Moneff's multi-currency account directly on the app, you can send and receive money in GBP, EUR, USD, SGS and CHF. 
The account isn't only an efficient way of managing your business' finances, but will help reduce transaction costs. Steading your bottom line in a time of economic volatility.
Local & International Payments


Making payments – regardless of where and to whom – may sound like a quick few taps of a button. But in reality, they require high levels of security and multiple digital gates.
With Moneff, your business' payments have never been so straight-forward. Our online payment system enables you to make UK Faster Payments within the same working day, local payments across the EU, or international payments to more than 150+ countries.
Full Transaction History
Tracking your finances has never been so easy.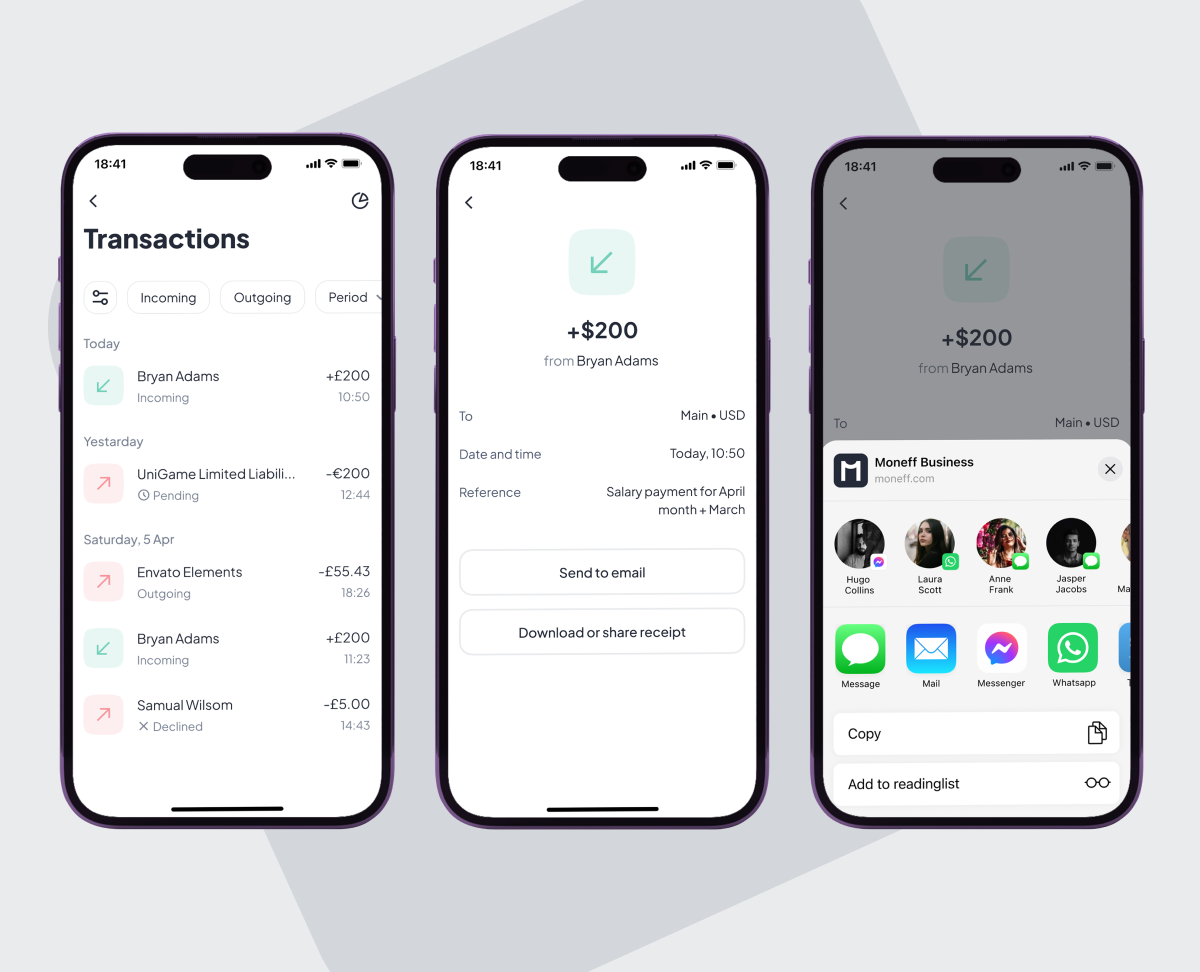 Many money apps have a limited view on your transaction history and statements. So when you're trying to find that one payment that's come into question, or download a statement for your accountant, you have to go the long way around.
Moneff's app contains full transaction history and statement access, so you have an unlimited view of your money – then and now.
Analytics
Looking to improve your financial management and protect your bottom line? Use Moneff's analytics.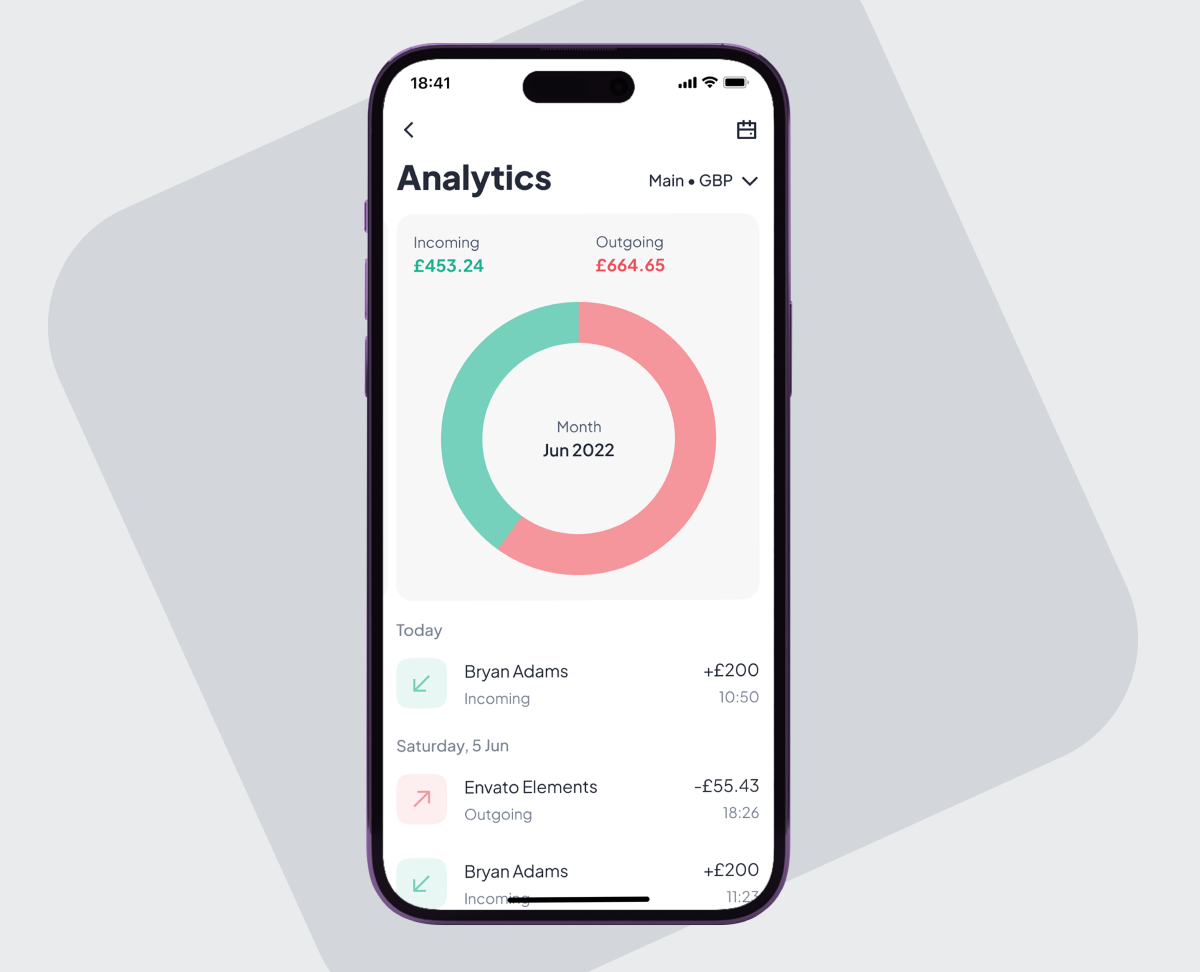 Our analytics tools within the app are the perfect way for you to understand and learn more about your business, from your business. Track and monitor incoming and outgoing payments, scrutinise patterns and adapt your finances accordingly.
Instantly Synchronised Apps
Streamline your accounts with instantly synced apps – across mobile and website.
Any changes you make, either on your mobile app or website app will be instantly and automatically reflected across both, saving you on time and admin.
Leading Security
There's nothing more crucial than ensuring your money and business are secure – no matter what.
The Moneff app includes a two-factor authentication process to keep your assets fully safe, as well as Strong Customer Authentication (SCA).
Additionally, we're an Authorised Electronic Money Institution (EMI) by the Financial Conduct Authority (FCA) and we have an EMI licence granted by the Danish Financial Supervisory Authority.
Your Money, Your Experience
When you're running a business, every minute counts.
Which is why we've carefully developed the Moneff app to provide you with the very best user experience for greater efficiency and convenience. Our interface is intuitive and easy to use, and all the information and resources you need are right at your fingertips. No more toggling between tabs or sections, or raising a ticket for support.
Available on iOS and Android
Whatever your preference, Moneff is available to you. Increasing accessibility and availability has always been of the utmost importance to us – and that includes adapting to whatever system you might have.
Unlock the benefits of the Moneff app today on your smartphone.
Constantly Improving…
At Moneff, we're constantly improving our services and capabilities, so you can have a more efficient, convenient and flexible way to manage your business' finances. Whatever your goals, ambitions and needs, let Moneff support you, every step of the way. Download our app and start your journey today.
Note: Are you still using the old platform (Safenetpay)? Moneff customers won't be able to gain access to our mobile app until they've fully migrated to the new Moneff platform. If you haven't completed your process yet, we'll contact you soon with everything you need to know.