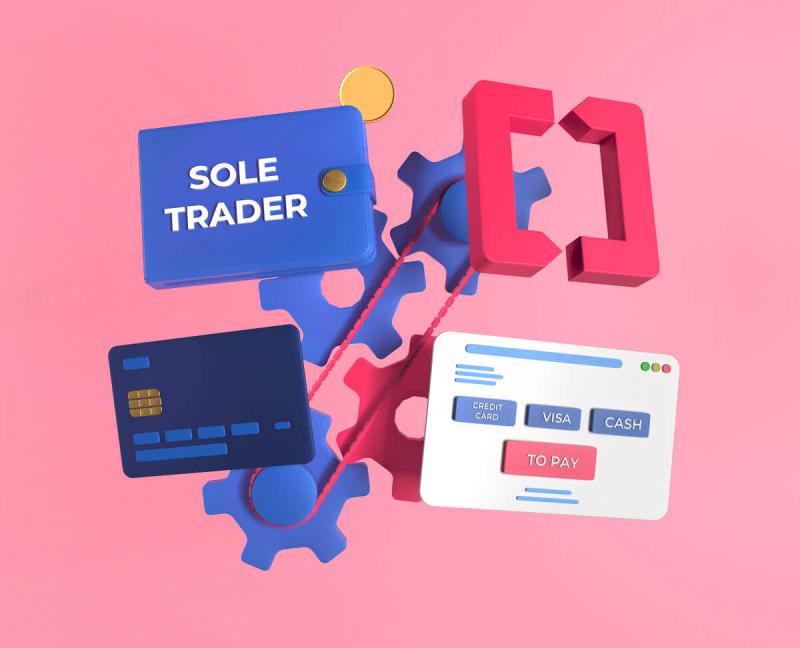 The cashless society is getting closer every year, and there's no doubt that Covid-19 has accelerated the trend, making online and contactless card payments even more popular.
According to the Federation of Small Businesses, there are 3.5 million sole traders in the UK, representing 59% of the total UK business population. As a sole trader, you'll almost certainly want to maximise your business opportunities by accepting card payments. Whether you operate online, in-store, or provide a service as a tradesperson, you can be sure that many customers will want to pay you with credit cards. Today, being cash only is definitely bad for business.
So, are you set up for sole trader card payments? Are you missing an opportunity by not using e-commerce? Here's how you can improve your business and accommodate your customers by going digital.
Taking card payments
A swift and secure payment system is the foundation for any e-commerce business, and today that can mean an enterprise of any size or description. Whatever your business or trade, there are some key steps to take if you want to accept card payments. The good news is that it's not difficult to set yourself up, and online payment service providers such as Safenetpay make it even easier.
Merchant accounts
The first step is to open a merchant account. To accept credit and debit cards in person, online or over the phone, every business must have a merchant account. A merchant account acts as an intermediary in the card payment process, holding money before it has been cleared for transfer to your own account.
Merchant accounts are different from standard bank account because they are only for storing money and can't be accessed directly. As a sole trader, you can use your current account to receive funds from your merchant account once the funds are authorised. Unlike limited companies and partnerships, there is no requirement to open a dedicated business account, but it's worth knowing the advantages versus a personal account.
To obtain a merchant account, you'll need the approval of an acquirer. This is the bank or financial institution that processes credit or debit card payments on your behalf. The acquirer allows you to accept card payments from the card-issuing banks (ie, your customers' banks) which are linked to card networks such as Visa and MasterCard. If you have a good credit and trading history, it shouldn't be difficult to be approved for a merchant account.
Payment gateways
А payment gateway is the technology that enables you to gather payment information from your customers and then transfer it to the acquirer via the merchant account. It is a key link in the payment chain and ensures that online payments can be made smoothly and securely.
Payment gateways check and validate your customers' cards, encrypting all the card details, and check that sufficient funds are available to make a purchase. Because gateways process sensitive information, it's important that they are PCI compliant, which means they must meet a set of security standards to accept, process, store or transmit credit card information.
If you take card payments via a website, you'll need both a payment gateway and a merchant account. There are many different setups when it comes to gateways, and it all depends on who you choose for payment processing.
Card terminals
If you're selling in-store or on the move, as opposed to over a website, you'll need terminals to take payments. Credit card terminals are the physical equivalent of online gateways. Everyone today will be familiar with card-reader terminals where you present your card for contactless payment to enter your PIN. There are three main types:
• countertop card readers
• portable card readers for when you need to move around your store
• mobile card readers for when you need to take payments in other locations.
There are also POS (point of sale) systems that serve the same function as card readers but which offer additional cash management services.
The setup that is best for you will depend on your type of business. You won't need any of the in-store options if you have a purely online business where all the sales go through your website.
Pick the right payment service provider
Whatever your business model, your life as a sole trader will be much easier if you find the right payment partner. Thanks to payment service providers such as Safenetpay, you no longer have to rely on banks to set you up in business.
With Safenetpay, you'll be able to accept and make card payments internationally, in multiple currencies, as well as handle alternative payment methods. And because we make it simple to open business accounts and merchant accounts, as well as to trade through a secure gateway, you can be up and running in no time.