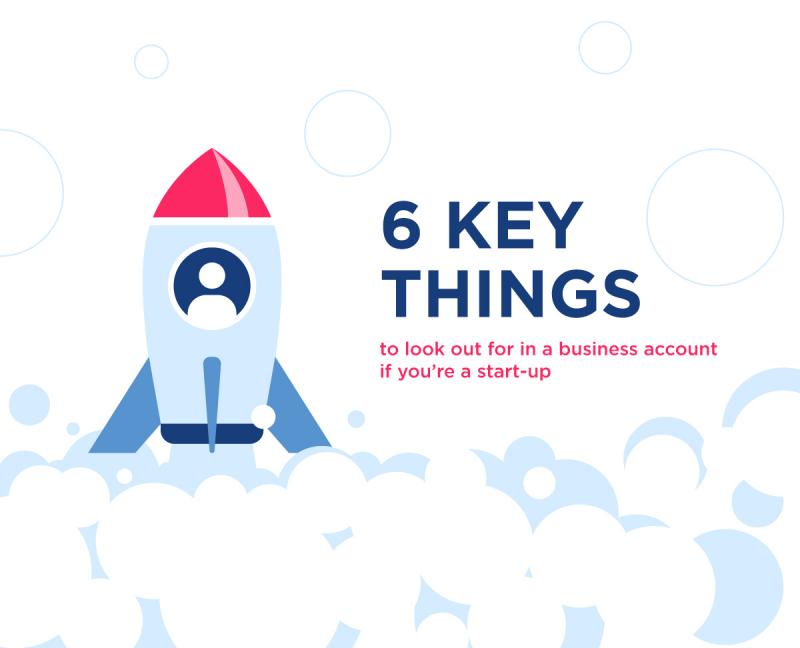 Running a business can be time-consuming and challenging regardless of the sector you are in or the size of your business. And if you're a start-up that's trying to get off the ground and ensure long-term viability, there are additional pressures.
No matter how good your business idea is on paper, unless you build on solid foundations and focus on operational efficiency from the outset, you may not survive your first trading year. Indeed, according to research published in the Telegraph, 20% of businesses don't make it past their first year, and 60% go bust within the first three years.
Careful planning will ensure your business has the best chance of success. How you handle day-to-day banking and manage cash flow is a crucial part of operational efficiency, and one of your first considerations should be whether to open a business bank account and what resources you need to support your nascent business.
If you're a sole trader, there is no legal requirement to open a business bank account; however, if you're running a limited company, partnership or trust, you must separate business finances from personal finances. Whichever way you operate, a business bank account has many benefits. It will make your financial responsibilities more straightforward and transparent, help you manage cash flow and tax returns, and your business will look more professional and established.
Here are six things to consider when assessing the merits of different business accounts.
1. Non-traditional business accounts
You might think that traditional bank accounts are the best route if you're a start-up. Certainly, if you fit their criteria, the big high street banks will try to accommodate your business. But, although they offer the reassurance of a familiar and trusted name, traditional banks often have long and drawn out onboarding processes, and there is no guarantee you'll be accepted once they have completed all their checks.
Some banks apply specific conditions depending on the size of your business, or the amount of your turnover, and you may not need all of the services that come with their business accounts. Charges can be steep, so why pay for features that you don't need? As a start-up, you are likely to have fewer initial needs, so look for a provider that offers a bespoke service.
This is where today's fintech specialists come in. These are the challenger banks and online payment service providers who are redefining the banking and payments space. For example, Safenetpay provides a UK account number, sort code, and IBAN in your own name, making it easy for you to trade with customers and suppliers wherever they are in the world. Moreover, unlike onboarding with many banks, you can register online and be up and running quickly and easily while still meeting compliance requirements. No paper forms, interviews, or admin hassle. You can set up in just minutes, rather than in weeks or even months, which is sometimes the case with banks.
2. Fees and introductory offers
Account terms and deals vary, so compare the market for the best offers. Look for providers who grant an initial period of free banking, then compare prices when these periods end. Don't be seduced by the free period, as the amount you eventually pay may mean it's actually a bad deal, and beware of additional fees for transactions such as cheque deposits (see 'transaction allowances'). It's important to keep costs down as a start-up, so factor in all the service costs to get a realistic overall figure and make sure you're not paying over the odds.
3. Transaction allowances
Check whether your account allows for unlimited free transactions. While some accounts are promoted on the basis of 'no monthly fees', this is usually because they are fee-per-transaction models, which means you will be charged for transactions such as withdrawals and transfers. This may be acceptable if you expect to have few transactions and therefore minimal ongoing costs.
4. Need a personal adviser?
Some business accounts include a personal adviser. This may be very useful for a start-up, as financial guidance can help to set you on the right path. But it may mean higher fees, so you need to weigh costs with benefits.
5. Check the overdraft facilities
Most start-ups operate at a loss until they gain enough momentum to generate a profit, so a good overdraft arrangement may help cash flow. Overdraft facilities vary and so do the charges for exceeding an agreed limit. While there have been much-needed changes to the consumer market, to make it fairer and easier to navigate, the new rules don't apply to business overdrafts. So, before entering any overdraft agreement, make sure you know all the charges that may apply. If you are ineligible for an overdraft, a business loan or invoice finance might help with cash flow.
6. Online banking for ease and speed
Today, as the world moves ever more online, a business account should be accompanied by all the benefits of digital banking. As a start-up, you'll almost certainly need to accept and make payments digitally if you want to build an online business, and you may need a provider who can handle different currencies if you plan to operate internationally.
Business accounts and beyond
In the past, anyone launching a new enterprise would have used a high street bank or a private bank for their business account. Now, thanks to fintechs who are harnessing online and mobile technology, there is far more choice. Payment service providers such as Safenetpay can fast-track business accounts and support e-commerce businesses by providing the infrastructure to accept and make payments in a variety for formats. To find out more, see Safenetpay's guide to online payments systems.