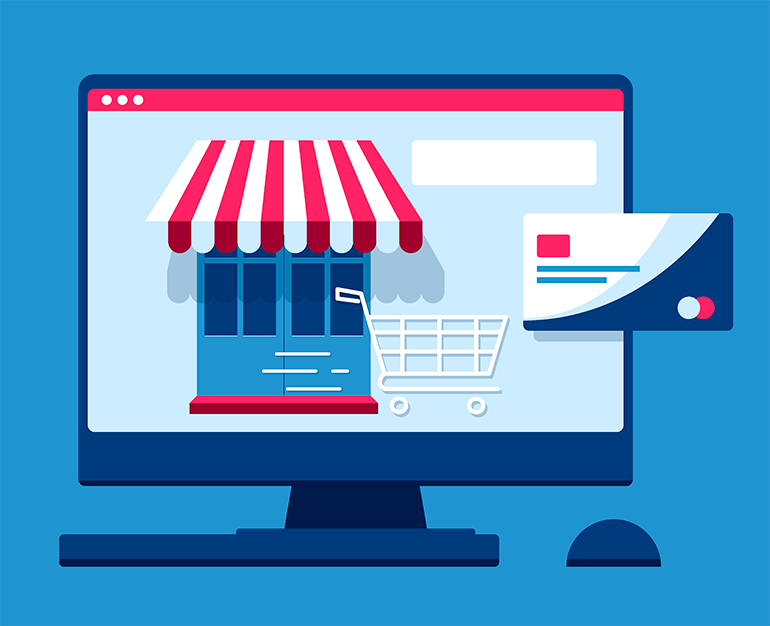 So, you want to open an online business?
Online shopping is big business - in the UK alone, e-commerce was worth around €175bn in 2018 and it is still growing.
It is easy to see why.  Customers like not having to queue, not having to struggle to the shops – and the ability to shop when it suits them, 24-7-365.
But if it is good for the customer, it can be even better if you are the website owner. You don't need to invest in costly high street premises, or staff. You may not even need to invest in stock with some online business models that let you call on stock direct from suppliers as it is ordered by your customers. But what makes it really exciting is that with the internet the whole world can be your customer.  With the right items for sale on your site at the right prices, you could be getting orders from around the world, and around the clock.  The biggest challenge could be to make sure everything is shipped off on time.
What will your online business sell?
You could sell products that you create yourself. Many producers – of everything from crafts to foodstuffs to engineering have set up web based shops as an extension of their manufacturing activity. But for most online retailers, the solution is to source products manufactured, imported or stocked by other businesses. You can either buy the products on a wholesale basis, or simply list them, and have the vendor handle the stock and shipping.
You can offer almost anything online, but the chances are that you will need to specialise in a particular sector. There are many large retailers, and you can't expect to compete with the likes of Amazon. Instead, you can create a niche business, and people  - and search engines – will come to you when they are looking for the specialist items that you sell.
One of the secrets of success is to think like a customer. You need to understand what they are looking for and what they expect when they buy it. You may need to spend some time researching the market you want to serve.
Find out:
Who your customers will be
Where they are located
What they want to buy
What they want to pay
What they are buying now – and where
This last is particularly important. You need to know where your potential customers are going now for the things that they need. A close look at your competitors, what they are doing right and what they are doing wrong – will be a big help in ensuring that your own online shop does not make the same mistakes.
Setting up a website for your online business
You can start off by selling your products through an existing online marketplace, such as Amazon, Etsy or eBay. Start up costs are low and setup is easy. But you will face lots of competition and little opportunity to establish your own branding and sales message.
Starting your own online shop can actually be just as simple – and better in the long term. Using a suitable e-commerce platform can let you build an online shop and manage your sales and operations with everything from display to building shopping cart functionality as part of the service.  You can usually set up your online shop using drag and drop tools.
Then get your business noticed. Make sure you're search engine optimised to help your shop to rank better in search engine results, and use social media to get your sales message across to your target market.
Be careful with your product descriptions. Under the Sale of Goods Act, the Supply of Goods and Services Act and the Sale and Supply of Goods Act, the products you sell must be exactly as you describe in your marketing, and must be of satisfactory quality.
As an online retailer, you also need to be up to speed on international taxation. You will need to look at the VAT rules for various countries and the EU Distance Selling Directive. This means you must provide full contact details to customers, including your address and phone number, and accept returned goods within seven working days.
Receiving online payments
Of course, there is little point setting up an online shop if you cannot accept online payments. Being able to offer secure and quick transactions is key to being trusted online as well as your profitability. You will need to make sure that your website can securely take payments from credit and debit cards.
The simplest ways to do this are to use an online payment processing service like Safepaynet. We provide a complete online money management. It includes fast, secure, global and reliable online payments solutions, and lets you to accept payments in 150+ currencies – giving you a head start in international as well as online business, as well as all major payments cards and even crypto currencies. You can find more details there.